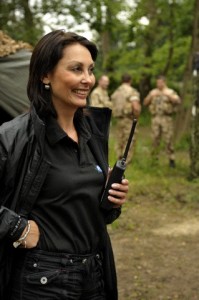 Dani Biernat caught the 'film industry stunt bug' nearly two decades ago and is still just as excited by being on set now, as she was back then.  She just has a hell of a lot more experience!
Both Dani's career and personal life were changed forever by a chance meeting with legendary top Stunt Co-ordinator, the late Peter Brayham.  Dani's initial experience of the stunt world was watching from the sidelines while Peter coordinated complicated stunts and set pieces. Occasionally he would use Dani as a stand-in, hanging her out of an 80ft building or sitting her in the passenger seat while he performed a high speed J-turn.  Love blossomed for Dani and Peter and they married and went on to have one son, Beau Brayham.
At first Peter was unconvinced that being a stunt performer was a suitable career for Dani, 'far too dangerous,' was his comment but Dani had the bit between her teeth and nothing was going to stop her.
Peter took little persuading once he saw Dani's tenacity, natural skills and determination to become a top performer in his field.   With Peter's guiding hand and mastery of his craft, Dani was truly able to learn from the very best.  Even with Peter's connections in the industry, there were no short cuts for Dani as she completed her training and testing to join the elite Spotlight JISC Register of Stunt/Action Co-ordinators and Performers, just like every other member.
Since Peter's death in 2006, Dani continues to be a leading figure on the stunt scene in the UK, as a Stunt Co-ordinator and Performer.
Dani is a familiar face on TV and film locations across the UK, where her energy and infectious enthusiasm when the odds are stacked against getting the shot, are well known.
Having worked on over 400 major productions for Directors including, Martin Scorsese, Marc Forster, George Lucas, Sam Mendes and Danny Boyle.    Dani has the reputation for achieving the best possible action sequence from the original script material and within the budget allowed.
Dani's extensive experience in front of the camera and her easy going, approachable manner, has led to her diversifying into TV Presenting and Public Speaking. From sliding down the Fireman's Pole as Renee Zellwegger's double in Bridget Jones, to winning a SAG award for her work on Bond's Skyfall, Dani certainly has alot to talk about!
To contact Dani Biernat for Stunt Co-ordinating, Stunt Performing, Presenting and Public Speaking please click here
[shareaholic app="recommendations" id="5641601″]